Babes Brewday
12 September 2018
Want a fun way to make brewing approachable, and suck new people into your hobby? Host a 'brew-in'! Any excuse to start opening homebrew at 10 am :)
Toni, the woman who got me into to home brewing wanted to show people how easy it could be, so started to invite people over. She got excited, invited our friend who had recently started to use a Grainfather. It evolved into what we decided to call "Babes Brewday".
I had originally planned on brewing a small batch on the stove, but plans quickly become more fun….Toni had a standard propane burner setup, although she was a convert to the 2.5gallon BIAB stovetop process, decided on a fun experiment. We would brew a 5 gallon base recipe on the propane setup, each take 2.5 gallons to have fun with and do our own thing. My version included tea!
Nothing like popping open homebrew bottles at 10am!
Lots of delicious home brew was consumed- I brought my lemon wheat, which was very enjoyed, and Chai Milk stout. Given the level of chai, I was a little worried about how people would like it, but it went over well. My husband brought his honey brown ale- the consensus was it was "ok". Not a bad beer, but not amazing either.
We managed to pick the hottest day yet to voluntarily stand around a propane stove, hydration is key if you are going to spend the day in the sun sharing homebrew.
Who thought open flame and day drinking was a good idea?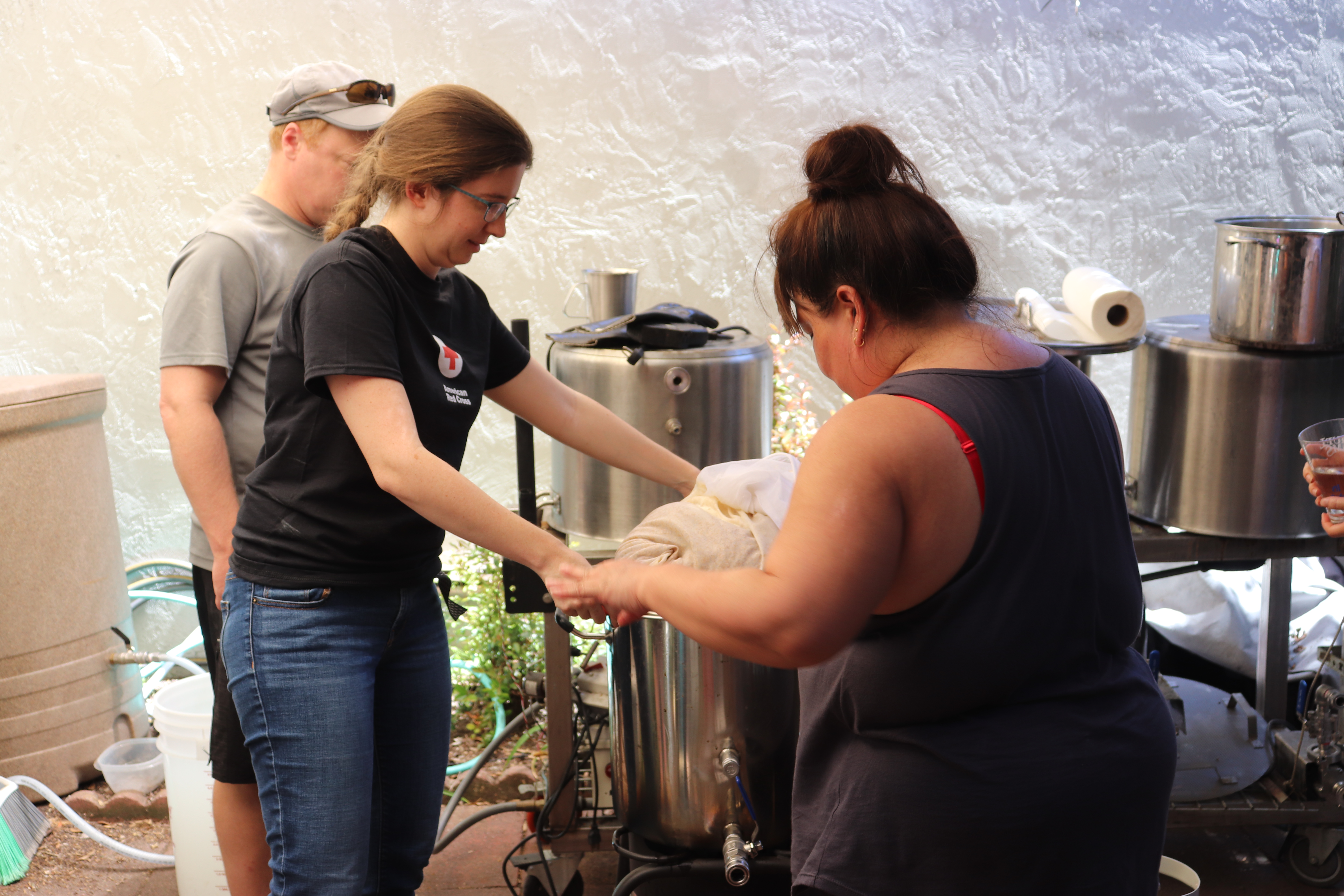 Everyone really enjoyed the Grainfather in action, that is an immaculately designed piece of machinery! The Grainfather can be a little pricey to start, but is a one-and-done purchase. I was re-assured that it can still do 2.5 gallon batches if need be! In the case of this brew, the Grainfather was pushed close to its limits with an Old Rasputin clone, weighing in at 17 lbs of grain!
If you have the time and space, I highly recommend hosting a 'Brew In' for novice brewers or people looking to get into the hobby. It gives a great opportunity to show the options available, and for newbies to get a variety of responses to questions.
Have you participated in a brew in or shared a brew day? Comment on the twitter thread HERE.
The babes... minus me... plus our helper!